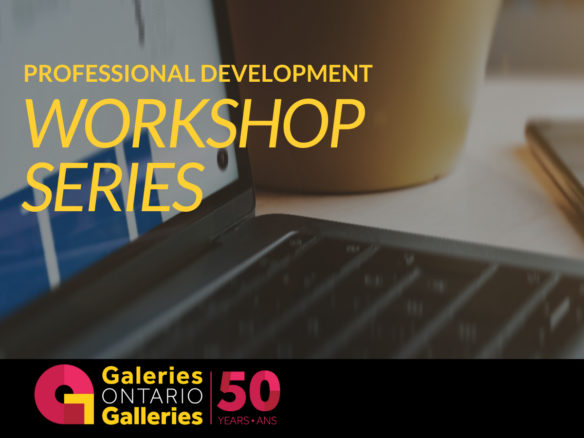 Workshop: Galeries Ontario/ Ontario Galleries' Professional Development Series
January 28, 2021 @ 2:30 pm
-
5:30 pm
Join Galeries Ontario / Ontario Galleries for upcoming online workshops, where senior, mid-career, and emerging professionals will gain professional knowledge, skills and practices in the public art gallery and museum sector.
Emily Cook, Critical Distance's Education & Accessibility Programs Director, will be joining the panel of presenters for the first workshop in the series, Collections and Accessibility.
Workshop #1: COLLECTIONS AND ACCESSIBILITY
Thursday, January 28th, 2021
Time: 2:30pm to 5:30pm ET
The relationship between art and disability has a rich but complex history. Although disability arts as a sector has only recently been acknowledged and supported in Canada, disability arts as a practice by disabled artists has always existed in one form or another.
While today, we recognize that art galleries and museums are mandated to serve the 'general public', however, many disabled people are barred from fully experiencing what galleries have to offer. Not only can spaces exclude through physical barriers, many galleries and museums are not accessible in their programming, exhibitions and collections.
This workshop provides an introduction to disability arts, tracing the gaps in galleries; accessibility and inclusion in their programs. This workshop will also address the gaps of accessibility online. Institutions need strategies to not only make their online and physical spaces more accessible but must actively resist the compulsory able-bodiedness of the "visual" arts as a whole.
PRESENTERS:
Sean Lee, Director of Programming – Tangled Arts + Disability
David Bobier, Media artist and founder of VibraFusionLab
Eliza Chandler, PhD, Assistant Professor, School of Disability Studies, Ryerson University
Yasmeen Nematt Alla, Communications Manager, Akimbo Art Promotions
Emily Cook, Education / Accessibility Programs Director, Critical Distance Centre for Curators
Sessions will include:
discussion on disability arts and justice;
case studies discussing web and digital access with a focus on social media and alt text;
case studies on practices in gallery spaces;
visual descriptions and how to describe it or communicate it;
and panel discussion on current practices and the future of accessibility in the gallery sector.
TO REGISTER FOR WORKSHOP #1 – COLLECTIONS AND ACCESSIBILITY:
Complete registration form then email form to –  Jessica Lukas, Secretariat Coordinator, members@oaag.org, with the subject line – ATTN: MAP – Workshop Series
 CLICK HERE FOR REGISTRATION FORM
Interested in the upcoming workshops in March? Fill out the Expression of Interest Form to receive a notification of the next three workshops registration openings.
REGISTRATION FEES:
Single Day Workshop Cost
GOG Members: $150.00
General/Non-Members: $250.00
Students (with valid student ID): $45.00
Registration includes access to the presentations and discussions, supplementary materials, and any additional activities.
VENUE LOCATION: 
These workshops will all be held virtually via Zoom –  A Zoom link will be sent once registration payment has been processed.
ACKNOWLEDGEMENTS:
GOG gratefully acknowledges the funding contribution from the Museums Assistance Program with the Department of Canadian Heritage.