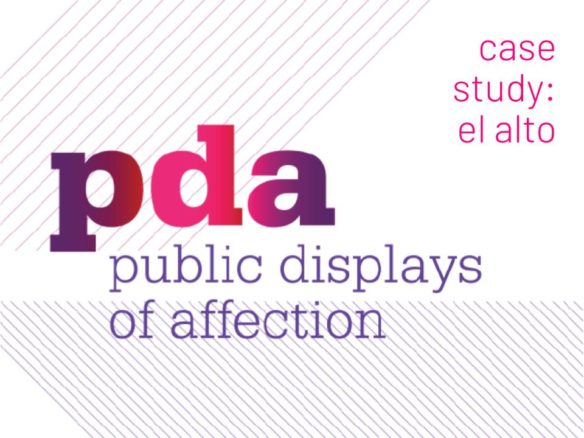 Case Study: El Alto
February 22, 2021 @ 1:00 pm
-
2:30 pm
Monday, February 22 | 1pm
Case Study: El Alto
Conversation with Maria del Carmen Camarena, Eliza Chandler, Saada El-Akhrass, Vanessa Dion Fletcher, Sean Lee, and Beatriz Miranda, moderated by Aidan Moesby
FREE Event – Click HERE to register.
This event will take place on Zoom, and have ASL and captioning. Images will be described and presenters will describe themselves. If you have any other access requests or questions please contact emily@criticaldistance.ca.
El Alto is a print and digital magazine produced by the British Council that showcases arts and culture in the Americas. The upcoming issue is centered around d/Deaf and disability arts and accessible practices in different countries of the region, connecting the breadth of activism, creativity, and critical work accomplished in very different social and political contexts. With the publication scheduled to be launched in Spring of 2021, this conversation will bring a number of contributors to El Alto together to discuss accessible publishing in the Americas, and broadly explore publications where d/Deaf and disabled artists' works are featured. We are inviting participants to share publications that platform disabled artists from a political and disability justice perspective, so we can together learn more and highlight this critical work and thinking.
To access the first issue of El Alto, please click here (please note, free registration with issuu is required):
This discussion is part of Public Displays of Affection (PDA): an expanded series of events on creative possibilities in accessible arts publishing, hosted by Critical Distance. PDA works within disability arts communities and beyond, building on Kelly Fritsch's notion that "to crip is to open up with desire to the ways that disability disrupts." Building on PDA's initial events in Fall 2020, the series will continue to produce a collective learning opportunity that considers the pleasures, desires, and disruptions of making arts publishing initiatives more accessible. Stay tuned for more events in the coming weeks and months. Read more about the program here.
This event is developed in partnership with British Council, Tangled Art + Disability, Bodies in Translation, and 17, Instituto de Estudios Críticos.
Public Displays of Affection is made possible through the generous support of the Toronto Arts Council and the Canada Council for the Arts.
Speaker Info:
Maria del Carmen Camarena is a vocalist who has performed in numerous musical groups. She appeared in the El Rey Nació opera from composer José Luis González Moya in Guadalajara city's Teatro Diana in 2012 and performed at the fourth Nairobi International Culture Festival in 2016, along with other high-profile performances.
Eliza Chandler is an Assistant Professor in the School of Disability Studies at Ryerson University where she teaches and researches in the areas of disability arts, critical access studies, social movements. She leads a research program focused on disability arts and crip cultural practices. Chandler is also a practicing curator.
Vanessa Dion Fletcher is a Lenape and Potawatomi neurodiverse Artist. Her family is from Eelūnaapèewii Lahkèewiitt (displaced from Lenapehoking) and European settlers. She Employs porcupine quills, Wampum belts, and menstrual blood reveals the complexities of what defines a body physically and culturally. Reflecting on an indigenous feminist body with a neurodiverse mind Dion Fletcher creates art using composite media, primarily working in performance, textiles, video. She graduated from The School of the Art Institute of Chicago in 2016 with an MFA in performance and York University in 2009 with a Bachelor of Fine Arts. She has exhibited across Canada and the US.
Saada El-Akhrass is the Senior Programme Manager, Arts, Americas at the British Council since 2019. She previously held the position of Arts Manager for the British Council office in Canada. Since 2014, she's been promoting cultural dialogue and relations with the UK, by building partnerships with art leaders, practitioners and organizations and engaging in common ideas surrounding artistic and social challenges. She holds a master's degree in Art History from the University of Quebec in Montreal (UQAM), where she co-founded Les Territoires, an artist-run centre dedicated to emerging artists.
Sean Lee is an artist and curator exploring the notion of disability art and accessibility as the last avant-garde. Orienting towards a "crip horizon", his practice gestures towards the transformative possibilities of a world that desires the way disability can disrupt. Sean holds a B.A. in Arts Management and Studio from the University of Toronto, Scarborough and is currently the Director of Programming at Tangled Art + Disability. He also is a member of the Ontario Art Council's Deaf and Disability Advisory Group and Toronto Art Council's Visual Arts / Media Arts Committee.
Beatriz Miranda-Galarza was born in Ecuador and has lived abroad since 2000. Her background is sociology and anthropology with emphasis in health and disability studies. During the last ten years she has dedicated her time to work with people with disabilities and leprosy regarding participatory action research in countries like Indonesia, Nepal, Myanmar, Timor L'este, Brazil, Ecuador, and Mexico. Currently, she is the Coordinator of the Critical Disability Studies programme at the 17, Institute of Critical Studies in Mexico. Since 2018, she has accompanied artistic projects that lead to revisit the role of disabled artists in the Latin American disability movement. She earned a PhD in Sociology and Disability Studies at the University of Leeds (UK); a Master in Anthropology by the KU Leuven (Leuven, Belgium); and Master in Latin American Studies by the University of the Andean Parliaments (Quito, Ecuador).
Aidan Moesby is an artist curator working at the intersection of art, health and technology. His current work investigates the dual crises of Climate Change and Mental Health exploring the relationships between the outer physical weather and internal psycho-emotional weather. I was Naked, Smelling of Rain is a performance exploring absence, presence, loneliness and dis/connectedness through the lens of weather, climate change and wellbeing. A resident at Pervasive Media Studio, Watershed, Bristol, he increasingly makes large scale, tourable works including Sagacity: The Periodic Table of Emotions, an interactive digital installation. He has worked, exhibited and curated nationally and internationally with partners including Unlimited (UK), Institute 17 (CDMX) Kulttuuri Kauppila (SUO), and Zacheta National Gallery (Poland).