Curated by AXIS Curatorial (Noor Alé and Claudia Mattos)
Featuring Farah Al Qasimi, Kaya Joan, Bea Parsons, Yelaine Rodriguez, Whyishnave Suthagar
Opening Reception
Saturday, April 23, 2022
1 – 4PM EST
401 Richmond Building, Suite 122
Of the Sacred is an exhibition that gathers a selection of artists who examine the divine through a highly personal lens, attesting to belief as a means of unearthing histories of colonialism, translocation, and individual circumstance. Tracing cultural inheritances of faith, lineages of intergenerational knowledge, and the syncretism of beliefs that emerge in the face of migrations, Of the Sacred initiates conversations about the role of belief in this time in history and the need for sanctuary—on a personal and collective scale—in light of the conditions of this age.
Of the Sacred is a Core Exhibition of the 2022 Scotiabank CONTACT Photography Festival.
Find out more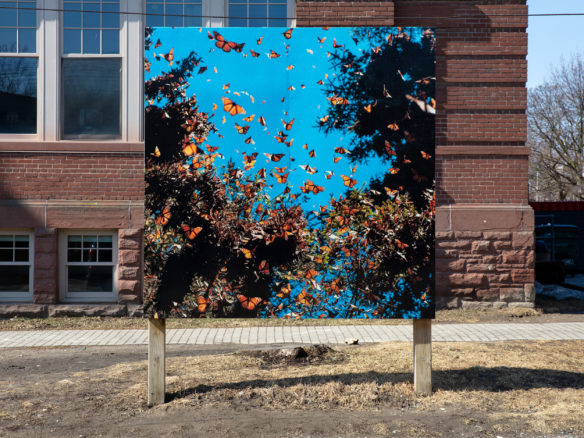 Billboard on Shaw presented by Scotiabank CONTACT Photography Festival in partnership with Critical Distance, featuring Monarch Butterflies at El Rosario II by Brendan George Ko, 2020.
Find out more