OUR MISSION + MANDATE
Critical Distance Centre for Curators (CDCC), a not-for-profit gallery, publisher, and professional network devoted to the support and advancement of curatorial inquiry in Toronto, Canada, and beyond.
With a focus on critically-engaged, collaborative, and cross-disciplinary practices, experimental and underrepresented perspectives and approaches, and wider public outreach and education on curating
and exhibition-making, Critical Distance is an open platform for
diverse curatorial perspectives, and a forum for ideas on curating as
a way to foster meaningful connections across cultures, disciplines, geographies, and generations.
A note on our name
We realize that many people assume the term "critical distance" implies a position of objectivity, authority, expertise, or judgment assumed by a critic or curator. In fact, this is not the position we are taking in choosing Critical Distance for our name.
We chose Critical Distance precisely to call into question the meaning of this term, which has a double implication.
On one hand, we wish to advance the idea that the space between any two people or positions — this critical distance — is precisely where connections happen — without this space we are only speaking to or for ourselves.
On the other hand, we critique the assumption that any one person can claim full objectivity, authority, expertise or judgment of another — that with too much distance we risk speaking inappropriately for or over others.
Thus a critical distance is never fixed — it is a relation that can be tuned toward an ethics of care in communication and critique between partners in any creative undertaking. It is a space that can be either/both intimate or expansive — what matters is not the amount of distance between self and other but the capacity a given distance affords for mutual support, generative conversation, and respectful connection, between equals.
As curators we need this is space — this minimum distance that gives the room for perspective — in order to engage critically, and with care, with the work of another. It is nothing less than the emancipatory recognition of each person's unique subjectivity in the curatorial encounter, which must exist freely and independently in relation to others in order to allow discourses that go beyond simple expression, assertion, justification, or reification — toward mutual relation.
This distance — even at the slightest remove — is one of the fundamental distinctions between the curatorial position and that of artists and others in the art and exhibition-making context. Hence the decision to embrace this complexity in our very name.
Land acknowledgment
A land acknowledgment is an opportunity to convey our understanding that we exist always in relation — in relation to past, present, and future, in relation to the places in which we live and work, and in relation to
each other.
We at Critical Distance take this opportunity to acknowledge that our
organization operates on land that has always been the home of Indigenous people and nations, specifically the Wendat, the Mississaugas of the Credit, the Anishinaabe, and the Haudenosaunee, people who continue to live and work here in what is currently known as Toronto.
Since before the 18th century, this territory has been under the Dish With
One Spoon treaty between the Haudenosaunee and the Anishinaabeg peoples, which is a mutual agreement for sharing land and resources. In this spirit we wish to share this space and our resources as well, and encourage all who visit CDCC to join us in solidarity, support, and collaboration with Indigenous communities in their ongoing resistance to, and active remaking of a world beyond colonialism.
Support can look like many things, including working within institutions to dismantle systemic racism and inequity, ending violence against women, 2spirit and girls, and advocating for Indigenous stewardship of land. Listed below are Indigenous-run organizations and initiatives you can learn about and support if you can. Thank you.
Indian Residential School Survivors Society
Walking With Our Sisters
Idle No More
Native Youth Sexual Health Network
ENAGB Youth Program in Toronto
More info to come
We're in the midst of an ongoing process of updating all of the content for our new website and will be posting more information in coming months. Subscribe to our newsletter for updates as they happen, and do contact us at info (at) criticaldistance.ca if you notice anything that needs more timely attention. Thanks for your patience and support!
OUR HISTORY + VISION
Opened in 2013 by independent curator/designer Shani Khoo Parsons, Critical Distance was born of a desire for more inclusive, critical, collegial, and sustainable practices in curating and exhibition-making. New to both Canada and curating at the time, Parsons became interested in how a hybrid organization might be able to address increasing precarity, inequity, and inaccessibility within, and to, the arts.
Public interest in curating has never been greater, yet misunderstandings regarding what curators actually do, and the crucial, often invisible role they play in connecting artists with audiences and contextualizing artistic practice within the current moment continue to beleaguer the profession. Upon learning that there has never been a CARFAC for curators, and confirming this lack of professional support for curatorial labour through research and peer discussions, Parsons established this space in response to the need, voiced by curators at all levels in their careers from across Canada, for a truly vital community of practice — one that stimulates curiosity, conversation, and critical thinking on contemporary culture, and makes space with equal regard for curators, artists, organizations, and audiences alike.
Each year, we produce a robust slate of exhibitions, editions, and events that provide a wide range of opportunities for both participants and publics to learn through and about curating. Our program year revolves around 2-3 core exhibitions, participation in annual fairs and festivals, special programs geared to supporting underrepresented perspectives, and critical arts publishing production and presentation. We also remain responsive to serendipitous opportunities as they arise, and are a sought-after partner for co-presented workshops, talks, launches, residencies, thesis shows, work-study placements, and other community-engaged exhibitions and collaborations. At the same time
we pursue a critical approach to online programming that attends to
both artistic possibility and accessibility with the same ethics and care that we bring to our in-person programming.  
Now approaching its landmark tenth year, CDCC is celebrating the 50+ exhibitions we have collaboratively produced with over 260 artists and curators within our intimate gallery space and multiple public-facing sites, first at Artscape Youngplace and since 2021 in our current home at 401 Richmond. Eschewing prescribed themes, disciplines, credentials, and other explicit or implicit barriers to participation, we've established a strong track record for eclectic, inclusive, experimental, and interdisciplinary programming. Whether emerging or established, local or international, engaged in material experimentation and/or conceptual investigation and/or socio-political activism — all of the guest curators we collaborate with are challenged to consider new, expansive, and accessible approaches to the display and dissemination of ideas on curating, contemporary art, and community engagement.
THANK YOU TO OUR FUNDERS
Critical Distance gratefully acknowledges the Ontario Arts Council for support in making our exhibitions and programs possible.

Thank you to Canada Council for the Arts for key program support for curatorial initiatives. Thanks also to Toronto Arts Council for project support as well.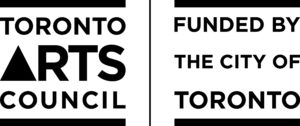 Critical Distance is thankful for generous project support from Partners in Art, Scotiabank CONTACT Photography Festival, and the Danish Arts Foundation.


For a full list of participants and co-presenting partners that we have had the pleasure of collaborating with since we opened our doors in 2013, please see Our People. Critical Distance acknowledges all contributions to our program with sincere gratitude.