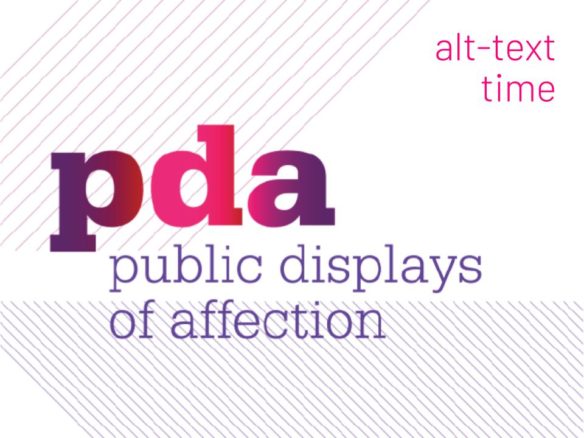 PDA Workshop: Alt-Text Time
October 18, 2020 @ 2:00 pm
-
3:30 pm
PDA: Alt-Text Time
Sunday, October 18, 2020 | 2pm
Alt-Text Time
Led by Bojana Coklyat, Shannon Finnegan, and Aislinn Thomas, with Ramya Amuthan
Click HERE to register.
This event will take place over Zoom. Please register via Eventbrite (link above) to receive the Zoom link closer to the event date.
Alt-text and image description are important access measures, especially for blind and low vision communities and others who use screen readers. Alt-text is a written description of an image posted online. It provides access to the image for those who can't see it. It is not visually displayed on a website or app, so if you aren't a web developer or a screen reader user, you mostly interact with alt-text by writing it and adding it to your images through designated form fields during the image upload process. Yet so many images are posted and circulated online without accompanying alt-text, leaving many people out of what could be a shared experience.
Bojana Coklyat, Shannon Finnegan, and Aislinn Thomas will lead a group work session to dig into our collective backlog of alt-text writing for websites or social media. We can share what we're working on, ask questions, and learn from each other in a more intimate way. Together, we'll collaborate on making the internet a more engaging, fun, and welcoming place. In the spirit of a community quilting bee, we'll come together to work individually and collectively toward a shared goal.
If you are brand new to writing alt-text, we recommend reading Section 2 of Bojana and Shannon's workbook Alt-Text as Poetry in preparation for this event. It includes some basic information about alt-text and how to write it, and / or watching one of Bojana and Shannon's Alt-text as Poetry workshops.
This event is part of Public Displays of Affection (PDA): an expanded series of events on creative possibilities in accessible arts publishing, hosted by Critical Distance. PDA will work within disability arts communities and beyond, building on Kelly Fritsch's notion that "to crip is to open up with desire to the ways that disability disrupts." Over the next several months, PDA will produce a collective learning opportunity that considers the pleasures, desires, and disruptions of making arts publishing initiatives more accessible. Read more about the program here.
This event will take place on Zoom, and have ASL and captioning. Images will be described and presenters will describe themselves. If you have any other access requests or questions please contact emily@criticaldistance.ca
This program is made possible through the generous support of the Toronto Arts Council and the Canada Council for the Arts.
Speaker Info:
Aislinn Thomas is an interdisciplinary artist whose practice includes video, performance, sculpture, installation, and text. She culls material from everyday experiences and relationships, creating work that ranges from poignant to absurd (and at times straddles both). Her recent works explore the generative potential of disability while pushing up against conventional standards of access.
Shannon Finnegan​ is a multidisciplinary artist making work about accessibility and disability culture. They have done projects with Banff Centre, Friends of the High Line, Tallinn Art Hall, Nook Gallery, and the Wassaic Project. They have spoken about their work at the Brooklyn Museum, School for Poetic Computation, The 8th Floor, and The Andrew Heiskell Braille and Talking Book Library. In 2018, They received a Wynn Newhouse Award and participated in Art Beyond Sight's Art + Disability Residency. In 2019, they were an artist-in-residence at Eyebeam. They spoke at Carleton University in 2019. They are currently exhibiting, ​Lone Proponent of Wall-to-Wall Carpet​ at Carleton University Art Gallery. Their work has been written about in C Magazine, Art in America, Hyperallergic, and the New York Times. They live and work in Brooklyn, NY.
Ramya Amuthan​ is currently a Host and Producer at Accessible Media Inc (AMI). She works with the live afternoon show team for the daily Entertainment and Lifestyle audio show called Kelly and Company. Ramya's work involves meeting fascinating people, hearing their stories, and facilitating conversations that bring out the messages wanting to be told to the disability community around Canada. Ramya is also the Co-creator of Adventures, a chapter of the Canadian Council of the Blind, based in Toronto, offering and facilitating opportunities for blind and low vision individuals to challenge comfort zones and take part in daring physical activities. Ramya always makes time for hobbies; including singing – for herself and sometimes others, dancing – mostly Brazilian Zouk, and brushing up on her culinary skills.
Bojana Coklyat, visual artist and disability advocate, focused her MA Studies at NYU Gallatin on the intersection of Disability Studies and Art Administration including an internship at the Whitney Museum of Art's Access Program and has attended the Kennedy Center International Leadership Exchange for Arts and Disability several times. Applying her knowledge and commitment to centering disability in the arts, Bojana curated a groundbreaking show for the NYU Gallatin Gallery, Crip Imponderabilia, a microcosm of what is happening in Disability Arts. Coklyat also received an NYU GRI Fellowship to study in access in museums in Prague in 2018, and a 2019-20 Fulbright to Prague for research on disability and the arts in the Czech Republic.