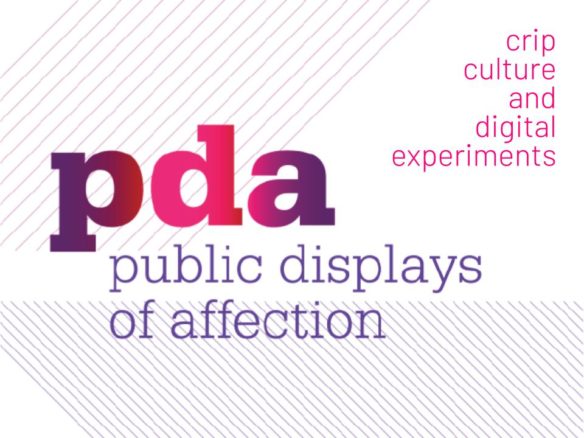 PDA: Crip Culture and Digital Experiments
September 28, 2020 @ 5:30 pm
-
7:00 pm
PDA: Crip Culture and Digital Experiments
Monday, September 28, 2020 | 5:30pm
Crip Culture and Digital Experiments
A Panel Discussion with Jessa Agilo, Aimi Hamraie, and Yo-Yo Lin, led by Lindsay Fisher, Creative Users Projects
Click HERE to register.
This event will take place over Zoom. Please register via Eventbrite (link above) to receive the Zoom link closer to the event date.
Artists, activists, and others in disability communities have been adapting online tools and platforms for work and play since well before the pandemic forced able-bodied people online. What creative solutions and experiments in the digital sphere have been happening within disability communities? What have we learned so far from the efforts to come together and adapt tools that were not designed with disability in mind? Join us as we discuss the particular joys and challenges of creative access in an online world, with reflections from Jessa Agilo, Aimi Hamraie, and Yo-Yo Lin. This conversation is moderated by Lindsay Fisher, Founder and Director of Creative Users Projects.
This discussion will set the stage for Public Displays of Affection (PDA): an expanded series of events on creative possibilities in accessible arts publishing, hosted by Critical Distance. PDA will work within disability arts communities and beyond, building on Kelly Fritsch's notion that "to crip is to open up with desire to the ways that disability disrupts." Over the next several months, PDA will produce a collective learning opportunity that considers the pleasures, desires, and disruptions of making arts publishing initiatives more accessible. Stay tuned for more events in the coming weeks and months.
This event will have ASL and captioning. Images will be described and presenters will describe themselves. If you have any other access requests or questions please contact emily@criticaldistance.ca
This program is made possible through the generous support of the Toronto Arts Council and the Canada Council for the Arts.
Speaker Info:
Jessa Agilo is an integrated arts creator, producer, changemaker, and social entrepreneur with a three-decade career boosting social, spatial, economic, digital, and accessibility justice for equity-seeking groups across all disciplines in Canadian arts and culture. She is currently the founder of ArtsPond, where she has led ground-breaking efforts to address gentrification (Groundstory), digital transformation of arts services (DigitalASO), COVID-19 response (I Lost My Gig Canada), the design of open source arts management software (Hatch Open), platform cooperatives (Artse United), and creative land trusts (Groundtrust). Jessa is a mentor to young leaders from Humber College, University of Toronto, Ryerson University, and more. She was recognized with the Humberto Santos Award in Business and Administration in 2006 and Toronto Arts Council's Leaders Lab in 2019.
Aimi Hamraie is Associate Professor of Medicine, Health, & Society and American Studies at Vanderbilt University, where they direct the Critical Design Lab. Hamraie is author of Building Access: Universal Design and the Politics of Disability (University of Minnesota Press, 2017) and host of the Contra* podcast on disability, design justice, and the lifeworld. Their interdisciplinary research spans critical disability studies, science and technology studies, critical design and urbanism, critical race theory, and the environmental humanities. Hamraie is also a certified permaculture designer, a co-founder of the Nashville Disability Justice Collective, and an organizer for the Nashville Mutual Aid Collective.
Yo-Yo Lin is a Taiwanese-American, interdisciplinary media artist who explores the possibilities of self-knowledge in the context of emerging, embodied technologies. She often uses generative animation, live performance, and lush sound design to create meditative 'memoryscapes.' Her current work reveals and re-values the complex realities of living with chronic illness. Through researching and developing methodologies in reclaiming chronic health trauma, she investigates the generative nature of the ill/ disabled bodymind and facilitates sites for community-centered abundance. She was a 2019 'Access' Artist in Residence at Eyebeam and has shown her work at SXSW, NYFF, and the Allied Media Conference. She finds herself at-home in New York City, Los Angeles, and Taipei.
Lindsay Fisher ​is an artist, designer and producer working in the not for profit sector. She is the founder and director of Creative Users Projects, an arts service organization that connects organizations, artists and audiences to accessible arts across Canada. Lindsay holds a Bachelor of Fine Arts from Emily Carr University and a Bachelor of Graphic Design from OCAD University.