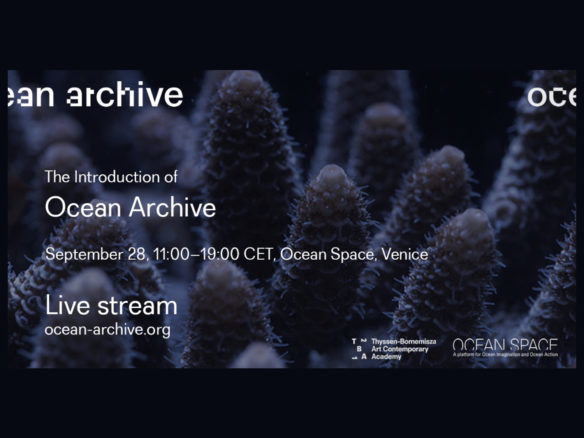 Ocean Archive: CDCC in Exchange with TBA21-Academy (Vienna)
September 28, 2019 @ 11:00 am
-
5:00 pm
Critical Distance Centre for Curators is pleased to participate in an international exchange with TBA21-Academy in response to the release of the IPCC Special Report on the Oceans and Cryosphere in a Changing Climate (SROCC). Scheduled to be published on September 28th, the report and proceedings with be presented at the Climate Justice for a Living Ocean at Ocean Space in Venice as part of Phenomenal Ocean, a convening to be led by Chus Martinez, Director of Institut Kunst in Basel.
Coinciding with the events in Europe, Critical Distance will host a public open screening of videos from TBA21 and Ocean Archive, and will simultaneously transmit a daylong series of liveposts from The Drowned World, featuring artworks by over 25 artists in the Ontario Place Cinesphere, curated by Charles Stankievech for the inaugural Toronto Biennial of Art.
Drop in to the free public screening at Artscape Youngplace anytime from 11am–5pm on Saturday, September 28th. The screening will take place on the first floor across from the mezzanine cafe space. (Critical Distance is currently installing our Fall exhibition so the gallery will be closed; however an attendant will be in Suite 302 to provide programs and more information.) Liveposts from The Drowned World will be published throughout the day on Critical Distance's Instagram feed (@critical.distance) and cross-posted to Facebook (facebook.com/criticaldistance) as well. For more info on The Drowned World at Toronto Biennial of Art, visit this link.
FEATURED ARTISTS from THE DROWNED WORLD at TORONTO BIENNIAL OF ART:
Aki Inomata, Alvin Lucier, Apichatpong Weerasethakul, Aryo Danusiri, Brandon Poole, Charles Stankievech,
Clarice Lispector, Cyprien Gaillard, Dark Morph, Drexciya, J.G. Ballard, James Tenney, Jean Painleve, Julian Charrere, Jumana Manna, Katarzyna Badach and Alfredo Ramos Fernandez, Lisa Rave, Marguerite Humeau, Nils-Alak Valkeapaa, Pauline Oliveros, Revital Cohen and Tuur van Balen, Ville Kokkonen/Comme des Garcons, Whatever, World Soundscape Project.
VIDEO PROGRAM from TBA21-ACADEMY/OCEAN ARCHIVE to be screened by CRITICAL DISTANCE:
Will Benedict. All Bleeding Stops Eventually, 2019
Produced by DIS. Commissioned by TBA21–Academy.
DIS is a New York-based art collective (est. 2010). In 2018 the collective transitioned platforms from an online magazine, dismagazine.com, to a video streaming edutainment platform, dis.art, narrowing in on the future of education as entertainment.
Khadija von Zinnenburg Carroll, Te Haa Kui o Tangaroa, 2019
HD video, colour, sound, 3 min. Commissioned by TBA21–Academy for Ocean-Archive.org.
Khadija Von Zinnenburg Carroll is an artist and art historian specialising in global histories and contemporary art with a focus on problems of restitution, indigenous heritage, and colonial museums from the sixteenth century to the present.
Carsten Aniksdal. Speak of the Sea, 2019
Producer: Berit Kristoffersen. Stock footage courtesy of Verrimedia/Canon. Commissioned by TBA21–Academy for Ocean-Archive.org.
Norwegian fisherman's daughter and seaweed entrepreneur Angelita Eriksen speaks to the interdependencies between the sea, the coastal culture of her beloved Lofoten Islands, and local harvesting practices amidst global warming and changing ocean ecologies. Carsten Anikdal is a Norwegian artist, filmmaker and photographer. Berit Kristoffersen is a political geographer and associate professor at UiT – the Arctic University of Norway.
Amanda Coulson: A Message from Inside the Rain, Bahamas, 2019
Amanda Coulson is an art critic, curator and artistic director of the VOLTA Show in Basel and Director of the NAGB (National Art Gallery of The Bahamas) on the island of New Providence, Bahamas.
Meet the Ocean Showreel
Meet the Ocean is a 501(c)(3) nonprofit organization dedicated to educating the public on the importance of the saltwaters of our planet. Employing science, storytelling, and encounters from earth's most remote locations, we combat environmental apathy and further understanding of how the ocean functions, in order to better protect it.
ABOUT THE PROJECT AND PARTNER:
Ocean Archive is a digital platform in the making; an archive and repository for collaborative research. It brings together the multitude of voices and stories around the Ocean and connects those striving to nurture and protect it. Initiated by TBA21–Academy, Ocean Archive is designed to be a pedagogical, research and storytelling tool for a broad audience, translating current knowledge about the ocean into a common ground aimed to enable us to make better decisions for urgently needed policies. Ocean Archive supports collaboration for a living ocean. The platform helps artists and scientific organisations find each other. It promotes decentralised cooperation between contributors and users and connects major international initiatives to other sources of knowledge, marginalised geographies and aesthetic approaches.
Jumpstarting the first developmental stage of Ocean Archive, the initiative will be introduced to the world in coordination with the IPCC special report on Oceans and Cryosphere in a Changing Climate. Phenomenal Ocean, a day of ideas for a new ocean language, curated by Chus Martínez, Expedition Leader of the second cycle of TBA21–Academy's fellowship programme The Current. The public gathering, taking place at Ocean Space — a collaborative embassy for the Oceans in Venice, will be structured as a series of interviews with experts, scientists, artists, musicians, and activists discussing the tools we need to perform better for a living ocean.
As part of the response to the upcoming report, Ocean Archive invited arts and culture organisations worldwide to participate in a network of autonomous events to be held on the same day. By supporting local initiatives for ocean conservation and protection, these partner events will create spaces to gather a community around shared concerns and collective actions, advocating for amplified regional responses to climate justice for a living ocean.
Ocean Archive is being developed in collaboration with Across the Cloud.
TBA21–Academy leads artists, scientists, and thought-leaders on expeditions of collaborative discovery. Founded by Francesca Thyssen-Bornemisza and led by Director Markus Reymann, the Academy is dedicated to fostering a deeper understanding of the ocean through the lens of art and to engendering creative solutions to its most pressing issues. Established in 2011, the nonprofit's programme is informed by a belief in the power of exchange between disciplines and in the ability of the arts as a vessel for communication, change, and action.
Venue
Artscape Youngplace
180 Shaw St
Toronto
,
M6J 2W5
+ Google Map