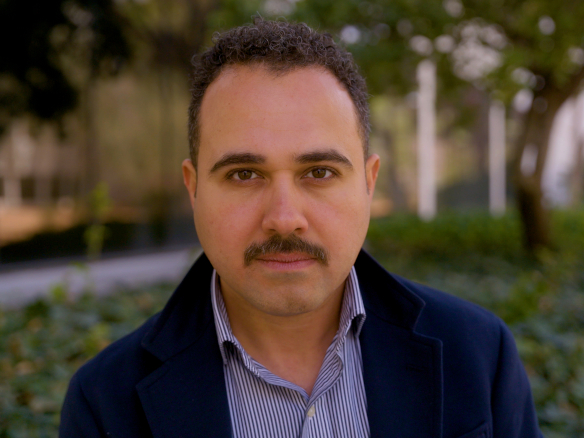 In Conversation: Ahmed Naji and Fatma Hendawy
August 1 @ 12:30 pm
-
2:00 pm
Tuesday, August 1 at 12:30 pm
On Zoom: Register on Eventbrite to receive the link
Critical Distance is pleased to present an engaging dialogue between acclaimed Egyptian author, Ahmed Naji, and renowned curator, Fatma Hendawy as part of our summer exhibition, Garden of Broken Shadows. The discourse will revolve around their experiences in adapting to life in the United States and North America, with a particular focus on the challenges and opportunities that come with using a different language as creators.
Ahmed Naji is the author of three novels, Rogers (2007), Using Life (2014), And Tigers to my Room (2020), and another non-fiction book (Rotten Evidence: Reading and writing in prison) as well as numerous blogs and other articles. His work has been translated into different languages including English, Italian, Spanish, and others. In 2016 Ahmed was sentenced for 2 years in prison in Egypt after a reader complained that an excerpt published in a literary journal harmed public morality. His imprisonment marks the first time in modern Egypt that an author has been jailed for a work of literature. Writers and literary organizations around the world rallied to support Naji, and he was released in December 2016. His original conviction was overturned in May 2017.
Fatma Hendawy Yehia is an Egyptian-Canadian curator, based in Toronto since 2017. Yehia graduated in 2020 from the Master of Visual Studies Curatorial program at university of Toronto. Since 2008, Yehia held different positions at the New Library of Alexandria including Head of Permanent Exhibitions (2010-12). She was the Assistant Curator at the AGYU, Toronto (2021-22). She was Guest Curator at Images Festival 2022, and currently she works as Assistant Archivist at the Art Museum, University of Toronto. Yehia participated in curatorial workshops (including Tate Intensive 2017), residencies (ProHelvetia and ZKU/Berlin) and curated several projects in Egypt, UK, Switzerland, France, Germany, and Canada. Her curatorial practice focuses on investigating censored archives, questioning inaccessible histories, and navigating militarised spaces.
Learn more about the exhibition, artists, and upcoming events: www.criticaldistance.ca/program/garden-of-broken-shadows
Accessibility
ASL Interpretation and live captioning will be made available at this event.
Critical Distance prioritizes creative and collaborative approaches to access in conversation with guest curators, artists, access professionals, and people in community. For any questions or more information, please contact us at info@criticaldistance.ca.
–

Garden of Broken Shadows is made possible through the generous support of the Canada Council for the Arts. Critical Distance gratefully acknowledges funding support from the Ontario Arts Council, an agency of the Government of Ontario.