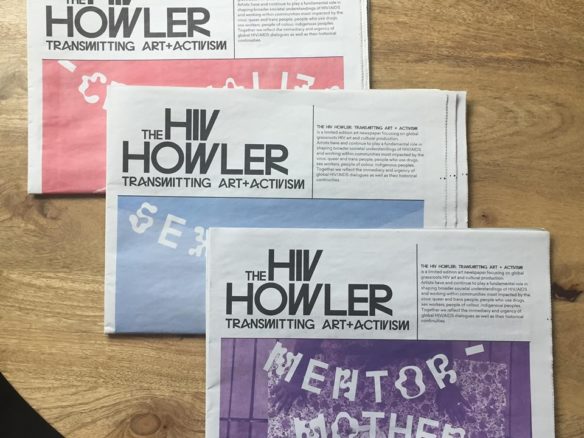 HAPPY HOUR WITH THE HIV HOWLER
August 9, 2019 @ 5:30 pm
-
7:00 pm
HAPPY HOUR WITH THE HIV HOWLER
Join us for a presentation by Anthea Black and Jessica Whitbread, founders of The HIV Howler: Transmitting Art and Activism in conversation with Danielle St. Amour (SBC galerie d'art contemporain – Gallery of Contemporary Art).
Refreshments will be served and all are welcome. Location is Artscape Youngplace, exact space TBD. Building is wheelchair accessible.This is a FREE event but please RSVP to rsvp@criticaldistance.ca to help us to plan space and refreshments.
The HIV Howler: Transmitting Art and Activism is a limited edition art newspaper focusing on global grassroots HIV art and cultural production. Artists, writers and activists play a fundamental role in shaping broader societal understandings of HIV and working from within communities that are most impacted by the virus. Together we reflect the immediacy and urgency of global HIV/AIDS dialogues as well as their historical continuities. The HIV Howler is a forum for dialogue, a demand for aesthetic self-determination, a response to tokenism, and a guide to navigating the vibrational ambiguities between policy, pathology, and community.
Come for the happy hour and stay for PRESSING THE ISSUE, PART 2: Continuing the conversation on the state of independent critical arts publishing projects in Canada with Anthea Black and Jessica Whitbread from The HIV Howler, Adrienne Crossman from Off Centre, Lauren Lavery from Peripheral Review, and Niki Little from imagineNATIVE Film + Media Arts Festival.
Anthea Black is a Canadian artist, writer, and cultural worker based in San Francisco and Toronto. Her studio work addresses feminist and queer history, collaboration, materiality, and labour and has been exhibited in Canada, the US, France, Germany, The Netherlands, and Norway. Black is co-editor of HANDBOOK: Supporting Queer and Trans Students in Art and Design Education with Shamina Chherawala and The New Politics of the Handmade: Craft, Art and Design with Nicole Burisch, and publisher of The HIV Howler: Transmitting Art and Activism with Jessica Whitbread. She is an Assistant Professor in Printmedia and Graduate Fine Arts at California College of the Arts.
Jessica Whitbread is a graduate of the York University Masters of Environmental Studies program, she has a degree in Building Communities to Ignite Social Change. She is a queer activist and artist that has been working in the HIV movement since shortly after her diagnosis in 2002. Her work includes LOVE POSITIVE WOMEN, Tea Time, No Pants No Problem and she is a co-curator of POSTERVirus. Jessica published Tea Time: Mapping Informal Networks of Women Living with HIV in 2015. She was the Wesley Mancini Artist in Residence at the McColl Center for Art and Innovation, and a recipient of the Premier's Award from the Government of Ontario, and the Visual AIDS Vanguard Award. In 2016, she gave birth to twins and advocated to openly breastfeed them in a Canadian context.
This event is held in conjunction with Publishing Against Grain, co-presented with iCI (Independent Curators International). Critical Distance would like to thank the Ontario Arts Council – Conseil des arts de l'Ontario for support in making this exhibition and related events possible.
Venue
Small World Music
180 Shaw St, Toronto, ON




Toronto

,

Ontario

M6J 2W5

Canada
+ Google Map