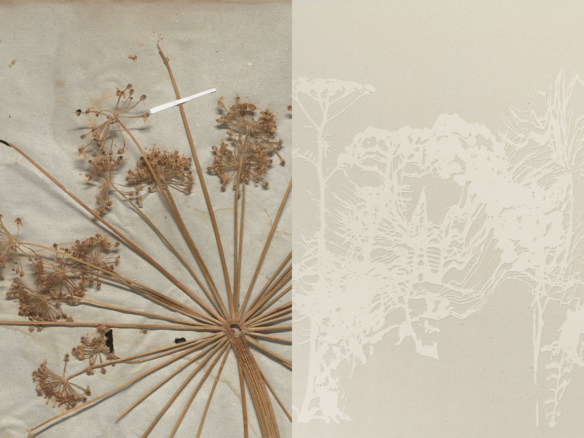 Artist Talks: Katherine Melançon and Anahita Norouzi
July 13 @ 12:30 pm
-
2:00 pm
Thursday, July 13 at 12:30 pm
On Zoom: Register on Eventbrite
Join us online to learn more about the practices of artists Katherine Melançon and Anahita Norouzi, as part of Critical Distance's summer exhibition Garden of Broken Shadows, curated by Fatma Hendawy. 
Katherine Melançon's practice is interested in the intersection of the natural and the technological. More recently, she has been exploring non-human beings' agency; what could become of the world of art, if it was created with non-human people? Often using the starting point of scanography of natural specimens, she plants these new seeds in various materials, exploring images' fluidity through cycles of metamorphosis between physical and digital soils. Katherine holds an MFA from Central Saint-Martins in London, UK, and a BA in digital media from Université du Québec à Montréal, Montreal, Canada. Her work has been exhibited in Canada, the USA and Europe. In 2022, she was named on the Sobey Art Award long list. She lives and works in Montreal.
Anahita Norouzi is a multidisciplinary artist, originally from Tehran and active in Montreal since 2017. For the past four years, she has been traveling between Iran and Canada to conduct her research which lies at the intersection of colonial histories, experiences of immigration and displacement, and the issue of identity and memory. Her practice is research-driven, instigated by marginalized histories and the legacies of botanical explorations and archeological excavations, particularly when scientific research became entangled in the colonial exploitation of non-Western geographies. Norouzi's works have been shown internationally, most recently at BIENALESUR, the International Contemporary Art Biennial of South America, in Buenos Aires, Argentina. She has received numerous grants, fellowships, and awards, most notably the Grantham Foundation Award, Liz Crockford Artist Fund Award, and the Vermont Studio Center Merit. She is the winner of Impression residency at the Montreal Museum of Fine Arts in 2022 and the finalist for the Magic of Persia Contemporary Art Prize for pieces shown at the Royal College of Art's Henry Moore Gallery in London and in Dubai.
Learn more about the exhibition, artists, and upcoming events: www.criticaldistance.ca/program/garden-of-broken-shadows
Accessibility
ASL Interpretation will be made available at this virtual event.
Critical Distance prioritizes creative and collaborative approaches to access in conversation with guest curators, artists, access professionals, and people in community. For any questions or more information, please contact us at info@criticaldistance.ca.

–
Images (Left to right): Anahita Norouzi, Arid Florilegium (detail), 2022, Inkjet prints on archival paper, paper cutouts, plexiglass, 16 x 20 in. Courtesy of the artist.
Katherine Melançon, Nature morte Un million d'horizons (detail), 2017, laser-engraved ceramic, 10 x 13.5 in. Photo: Jean-Michel Seminaro.
–
Garden of Broken Shadows is made possible through the generous support of the Canada Council for the Arts. Critical Distance gratefully acknowledges funding support from the Ontario Arts Council, an agency of the Government of Ontario.