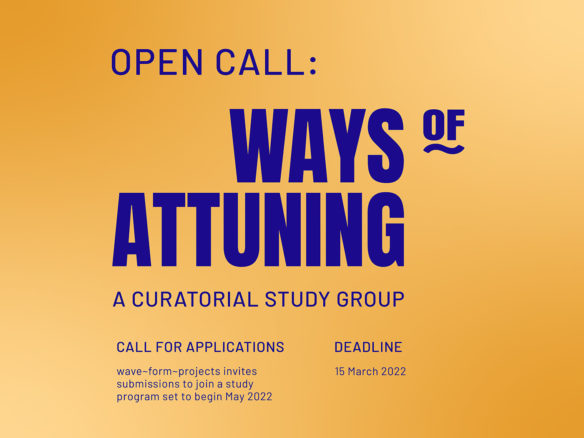 CONTINUING STUDIES: Ways of Attuning: A Curatorial Study Group
February 1, 2022 - March 15, 2022
Deadline to apply: 15 March 2022 at 12PM/noon EST.
wave~form~projects in conjunction with Critical Distance Centre for Curators is excited to announce the open call for Ways of Attuning: A Curatorial Study Group, set to begin in late spring of 2022. The program is a learner-focused mentoring and study group based in Tkaronto/Toronto that aims to create a collaborative learning environment in which everyone is an active, knowledge-sharing member.
For this pilot edition, we are seeking applications from curators and cultural practitioners who are interested and invested in developing their practice in a collaborative, experimental, and anti-racist environment. The program will integrate the conceptual, practical, and personal aspects of curatorial practice into the learning process, allowing for imaginative thinking around curatorial possibilities.
Find out more