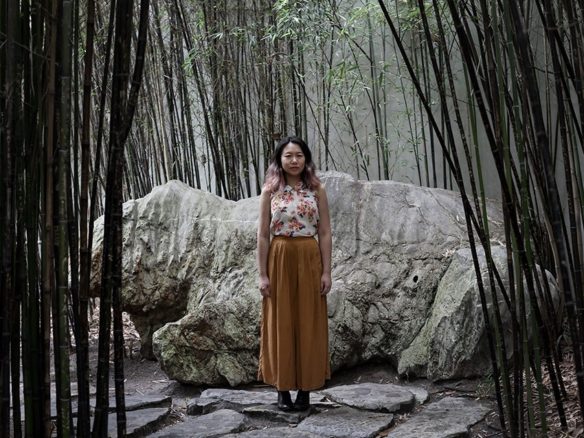 Curating for the Future with AGYU Visiting Curator Tian Zhang
June 19, 2019 @ 7:00 pm
-
9:00 pm
A FREE PUBLIC PRESENTATION BY AGYU VISITING CURATOR TIAN ZHANG
WEDNESDAY, JUNE 19, 2019 starting at 7PM at Small World Music Theatre, Suite 101 of Artscape Youngplace, 180 Shaw Street, Toronto, ON, M6J 2W5
AGYU and Critical Distance Centre For Curators (CDCC) are pleased to co-present a curatorial talk by AGYU Visiting Curator Tian Zhang (Sydney, Australia). A presentation of Tian's work will be followed by a facilitated conversation hosted by Emelie Chhangur (AGYU), Myung-Sun Kim (Toronto Biennial of Art), and Shani K Parsons (Critical Distance).

TIAN ZHANG is a curator and cultural producer interested in socially-engaged, alternative and activist curatorial methodologies. Her work has been shown nationally in Australia, including at Customs House Sydney, Judith Wright Centre of Contemporary Arts and Metro Arts. Her curatorial project I Am, You Are, We Are, They Are (2017) was nominated for a Museums and Galleries of NSW Imagine Award and she has produced multiple award-winning socially-engaged and site-specific works for Urban Theatre Projects (Bankstown:Live, 2015 and Home Country, 2017). Tian is the Chair of Firstdraft, Australia's longest running artist-led organisation and a founding co-director of Pari, a new artist-run initiative for Parramatta. She is an alumni of the Australia Council for the Arts Future Leaders Program 2018.
EMELIE CHHANGUR is an award-winning curator, writer, and artist based in Toronto, where she works as Interim Director/Curator of Art Gallery of York University (AGYU). Chhangur is known for her process-based, participatory curatorial practice, the commissioning of complex works across all media, and the creation of long-term collaborative projects performatively staged within and outside the gallery context. Dedicated to questioning the social and civic role of the contemporary art gallery, Chhangur is known for a practice she calls "in-reach," which is transforming institutional practice in the arts across Canada.
Situated in Toronto's suburbs and located at one of Canada's most diverse universities, AGYU has reinvented itself in order to become responsive to this nuanced cultural context and to make its location a catalyst for artistic risk-taking and institutional innovation. AGYU believes that a contemporary art gallery should serve an aesthetic and social function, that it must be fluid and flexible and transform itself through reciprocal engagement with artists, communities, and the world as it changes. AGYU has an award-winning exhibition, publishing, and commissioning program and is known for its long-term, socially engaged projects that bring together the various streams of its artistic activity. AGYU's residencies operate in relation to the gallery's research practice and as a core generator of its artist-centered, iterative-style of programming. AGYU's Visiting Curator Series began in 2017.
MYUNG-SUN KIM is an interdisciplinary artist and cultural programmer. She has led curatorial programming at galleries and festivals including Toronto Reel Asian International Film Festival, Inside Out Film Festival (shorts), and The Theatre Centre, and programs multidisciplinary practices across various media. Her approach to public engagement focuses on intersectionality, empathetic methodologies, social processes, and engaging in civic conversations through meaningful partnerships and collaborations. She recently completed a Fellowship with the Toronto Arts Council's Leader's Lab with Banff Centre. Her work as an artist has been presented across North America and in Finland, including Art Gallery of Ontario, MOCA Toronto, FADO Performance Art Centre, and Plug In ICA. Currently, she is the Associate Curator of Public Programming & Learning at the Toronto Biennial of Art.
SHANI K PARSONS is an independent curator and founding director of Critical Distance Centre for Curators (CDCC) in Toronto. With degrees in architecture and design she has pursued a transdisciplinary, research-based practice within independent and institutional contexts and produced an eclectic body of work ranging from intimate artist's books to immersive exhibitions. Curatorial projects include solo and group exhibitions featuring local and international artists working in all media, site-responsive interventions and installations in the public sphere, and thematic moving image programs bringing together eclectic and experimental films, videos, animations, music, and more. www.anotherbeautifulday.ca
CRITICAL DISTANCE is a not-for-profit project space, publisher, and professional network devoted to the support and advancement of curatorial practice and inquiry in Toronto, Canada, and beyond. With a focus on critically engaged, collaborative, and cross-disciplinary practices, underrepresented artists and art forms, and community outreach and education in art and exhibition-making, Critical Distance is an open platform for diverse curatorial perspectives, and a forum for the exchange of ideas on curating and exhibition-making as ways to engage and inform audiences from all walks of life. www.criticaldistance.ca
…
ACCESSIBILITY INFORMATION
Artscape Youngplace and Critical Distance are fully accessible by Ontario standards, with a wheelchair ramp at the 180 Shaw Street doors, an elevator servicing every floor, and a fully accessible washroom on every level. The nearby 63 Ossington bus on the TTC is wheelchair accessible.
…
Tian Zhang would like to acknowledge the Australian Government through the Australia Council for the Arts, its arts funding and advisory body for support for this project.
The Art Gallery of York University is a university-affiliated public non-profit contemporary art gallery supported by York University, the Canada Council for the Arts, the Ontario Arts Council, an Ontario government agency, the City of Toronto through the Toronto Arts Council, and through our membership.
…
image: Lux Eterna, Notch by notch the bamboo grows: Tian Zhang, 2017
Venue
Small World Music
180 Shaw St, Toronto, ON




Toronto

,

Ontario

M6J 2W5

Canada
+ Google Map