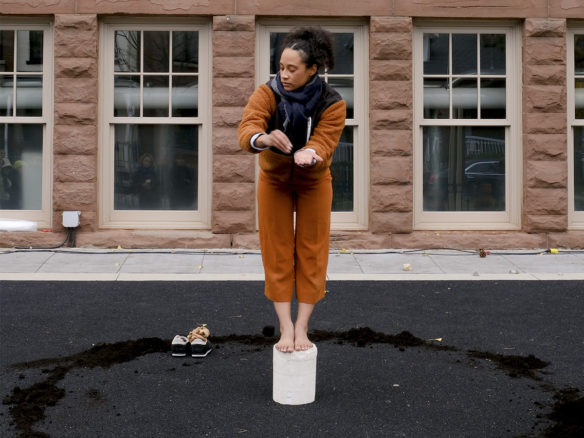 Performance: A landscape's spine
November 20, 2021 @ 1:00 pm
-
1:30 pm
Live Performance
A landscape's spine by Florencia Sosa Rey and Eve Tagny
Saturday, November 20th, 2021
1 – 1:30 PM (Duration of performance: approx. 30 minutes)
Artscape Youngplace, 180 Shaw St.
Following her practice's ongoing investigations into gardens as sites of grief and renewal, Eve Tagny along with collaborator Florencia Sosa Rey has choreographed a performance as a closing gesture for the exhibition You sit in a garden (curated by Chris Andrews).
Tracing parallels between a plant's roots and our body's spines, the performers explore the entanglements of leisure, respite, care as well as privilege, exclusion and labor that play out in our gardens and landscapes.
"If we go "to" nature, we are in fact going into ourselves."
This is a free, public event hosted outdoors at the performance pad in front of Artscape Youngplace, on 180 Shaw Street. Everyone is invited. Dress warmly, and we encourage attendees to bring a blanket. Warm cider will be served. Open.
The performance is taking place live/on-site and it will also be livestreamed on Zoom, including live, improvised open Audio Description (for both in-person and online) by Jennifer Brethour and Kat Germain. Captioning, ASL interpretation and Deaf interpretation with Ayoka Junaid and Tamyka Bullen will be included on Zoom. Please contact emily[at]criticaldistance.ca with any access concerns. You can also visit this link for detailed and expanded information on Audio Description, compiled by Kat Germain.
Venue
Artscape Youngplace
180 Shaw St
Toronto
,
M6J 2W5