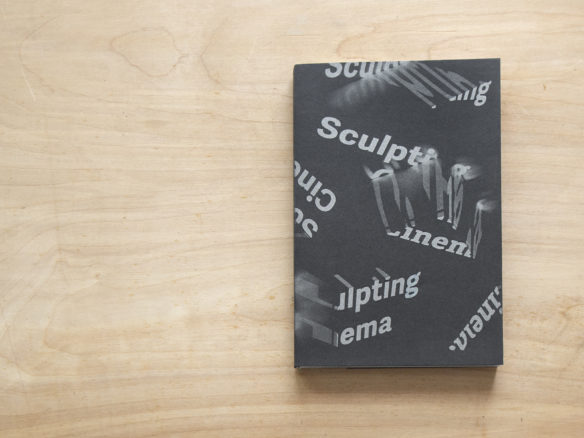 Sculpting Cinema
Sculpting Cinema documents the intersections of sculpture, architecture, performance, installation art, and expanded cinema within contemporary Canadian art. Through seven pieces of writing and two artists' projects, a selection of scholars and creatives from across the country have explored the ways that cinema flows off the screen and into physical space. The book embodies this thematic content through a creative design, making it an attractive collectors' object and critical discourse simultaneously.
The written texts conceptualized artworks by Christina Battle (London, ON), Shary Boyle (Toronto), Thomas Evans & Jonathan Mandeville (Halifax), David Hoffos (Lethbridge), Donald Lawrence (Kamloops), Alexandre Larose (Montreal), Kristie MacDonald (Toronto), Andrew John Milne (Winnipeg), Solomon Nagler, and Charles Stankievech (Toronto), while the artistic projects embodied Pierre Hebért and Solomon Nagler's cinematic practices within the book format.
Editors: Melanie Wilmink (Phd candidate, York University), Solomon Nagler (artist and Associate Professor, NSCAD University)
Contributors: Zoë Heyn-Jones (Toronto), Tom Kohut (Winnipeg), Shana MacDonald (Kitchener-Waterloo), Harry Vandervlist (Calgary), Carmen Victor (Toronto), Colin Zipp (Winnipeg), and Melanie Wilmink (Toronto), with artist's projects by Pierre Hebért (Montreal), as well as Solomon Nagler and Angela Henderson (Halifax).
Designer: Jayme Spinks
Each publication includes unique, hand-inserted, photo-emulsion prints by Solomon Nagler and Angela Henderson.
Collection
Art Writing / Criticism, Books